Message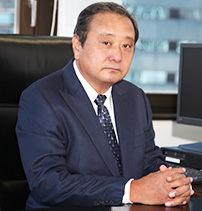 Ever since our establishment in 1968, Marubeni Construction Material Lease has been engaged in the leasing and installation of temporary heavy steel construction materials, all the while contributing to society in a comprehensive range of fields involving construction work, such as social infrastructure development and restoration/rehabilitation in the wake of natural disasters in Japan and Asia. We will celebrate the milestone of our 50th anniversary in 2017.
Throughout our history, we have experienced significant changes in economic conditions, such as the collapse of the bubble economy in Japan and the economic downturn precipitated by the Lehman Brothers bankruptcy. Unfortunately, uncertainty continues to surround our business environment in the immediate future. However, we also see increasing business opportunities driven by large-scale redevelopment projects, infrastructure improvements, and construction demand connected with the 2020 Olympic and Paralympic Games getting up to speed in the Greater Tokyo Area.
Under these conditions, we have shifted to a company with an audit and supervisory committee to further enhance corporate governance, while four new executives have been appointed, including myself, thereby rejuvenating the management of the entire company.
Refreshing our ideals and with targets of creating a system that flexibly responds to all customer needs and changing business environments, while also fulfilling our corporate social responsibilities, we have established the three-year "Creation of New Directions for Growth" mid-term management plan, covering FY2016 to FY2018. The plan incorporates the promotion of three basic strategies: "promotion of new strategic investments," "further strengthening of revenue bases in core businesses," and "improvement of internal infrastructure toward sustainable growth."
June 21, 2016
Motoo Uchiyama
Executive President