Message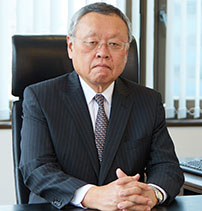 Ever since our establishment in 1968, Marubeni Construction Material Lease has been engaged in the leasing and installation of temporary heavy steel construction materials and has contributed to the construction of urban spaces in a comprehensive range of fields, such as social infrastructure development and restoration/ rehabilitation in the wake of natural disasters in Japan and Asia.
Fiscal year 2018 marks the company's 50th anniversary. Over the past 50 years, Japan has experienced a number of significant changes in the economic conditions, such as the post-war rapid growth period, economic bubble, collapse of the bubble economy and the economic downturn precipitated by the Lehman Brothers bankruptcy. However, the recent environment surrounding the construction offers increasing business opportunities driven by large-scale redevelopment projects, infrastructure improvements, and construction demand connected with the 2020 Olympic and Paralympic Games getting up to speed in the Greater Tokyo Area.
Under the 50th anniversary slogan of "Transformation towards the future and striving for new creation," the officers and employees will come together as one, and while maintaining a balance between the policy of safety first and cost performance, we will further upgrade our corporate governance policies. At the same time, we will respond with certainty to domestic demand based on the trusting relationships with our stakeholders, and work to expand the scope of our business through the promotion of overseas projects and implementation of new strategic investments including M&As.
We ask you for the continued guidance and support going forward.
June 27, 2018
Shoji Kuwayama
Executive President